In honor of my good friend's visit, I threw together a little gathering to welcome her home. Having excess time is not something I am familiar with anymore, as the demands of school and my dietetic internship have taken priority of my life. Luckily, I was able to throw together two very simple and nutritious dips to accompany my cheese platter, crudités, and home made pita chips. At the end of the day, all you need is some wine and good company.
Vegetarian Chopped Liver adapted from the Moosewood Cookbook
Who doesn't love the real thing…well maybe a few people, but as we know it is definitely not the most healthful food to eat despite its deliciousness. This recipe does a decent job at emulating the texture and appearance of chopped liver and, although the taste does not really resemble the creamy indulgence, it stands its ground as a delicious dip for any occasion.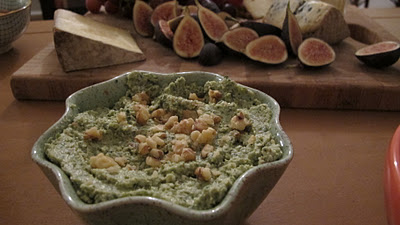 6 servings
1 Tbs. Vegetable oil
1/2 cup minced onion
1/2 tsp. Salt
1 1/2 cups chopped fresh green beans
2 hardboiled eggs (yokes removed)
1/4 cup chopped walnuts
1 1/2 Tbs. White wine
1 1/2 Tbs vegan mayo
black pepper to taste
Handful of parsley
Sauté onion and salt in oil until onion browns, about 10 minutes. Add chopped green beans and sauté until tender, about another 10 minutes.
Combine all the ingredients, including the onion and beans, in a food processor until well blended.
Top with some chopped walnuts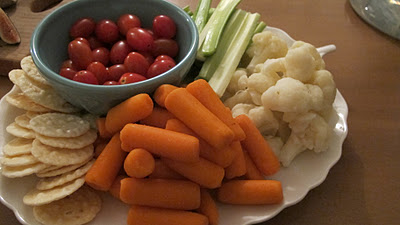 Oil-Free Hummus
Hummus is always a party pleaser, especially when you make your own. This recipe, which was modified from my buddy Barefoot Contessa, uses no oil, resulting in a lower fat version of everyone's favorite dip.
Makes 2 cups
2 cups canned chickpeas, drained and liquid reserved
1 1/2 teaspoon of kosher salt
4 garlic cloves, chopped
1/3 cup tahini
6 Tbs lemon juice from 2 lemons
2 Tbs water or reserved chickpea liquid
8 dashes Melinda's hot sauce
Blend all ingredients in a food processor until smooth
I garnished my hummus with some whole chickpeas for added texture and a few sprinkles of cayenne pepper.
Hummus is a great snack option or sandwich topper, especially this one, that includes minimal excess fat, which usually comes from olive oil. It was creamy, flavorful, and extremely simple to make. Chickpeas are a legume and are an excellent source of lean protein, iron, calcium, and fiber! The tahini, which is roasted pureed sesame seeds, also has calcium, and mono and polyunsaturated fats (the good fats).
I served both dips with home made whole-wheat pita chips. To make the chips, simply separate the pita into two and cut into triangles. Toss the pita in olive oil, garlic powder, onion powder, rosemary, and pepper. Bake at 350 until crisp, tossing as they cook, about 15-20 minutes. Finish with sea salt.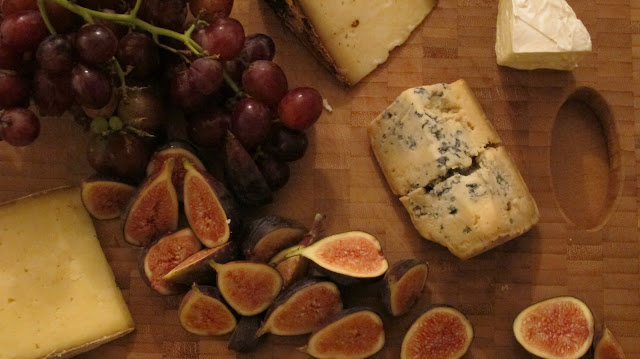 D, it was so nice seeing you, looking forward to your next trip home!