Not everything turns out the way you want it to, and my attempt at the picture perfect roast chicken left me thinking that I should have saved my energy and called up Pio Pio. Needless to say, the evidence of the roast will not be making an appearance on TCR anytime soon. But alas, I was left with a hefty quantity of roast chicken that serendipitously was mainly dry white meat. To amend this cooking faux pas, I gave the bare and juiceless chicken the equivalent of a spa getaway to the Berkshires. He came back refreshed and glowing and was ready to win back my respect.
Curry Chicken Salad (hold the mayo)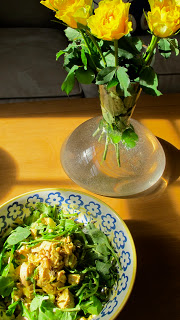 Diced roasted chicken (2 breasts skin removed)
2 tbsp fat-free plain yogurt
1 tbsp hot curry powder
2 stalks celery chopped
1 1/2 tbsp raisins
1 tbsp walnuts chopped
1 cup arugula
salt and pepper
Whisk yogurt and curry together, mix in all ingredients, and season to taste with salt and pepper
Now I know this is certainly not the most original idea, but it's a leaned down version of a classic. The chicken salad was the perfect lunch. It was spicy, tangy, and sweet, and I'm sure it will be even more flavorful tomorrow.
Curry not only adds wonderful color and a flavorful pop, but research also shows that it may be beneficial for your health. Turmeric, which is the main ingredient in curry and the reason for its yellow hue, has been used in Asian medicine for centuries to help with stomach problems, arthritis, and lack of energy. Recent studies show that turmeric has anti-cancer, anti-oxidant, and anti-inflammatory properties, so adding a little spice and flavor may be more healthful than you thought!
Curry, thanks for coming to the rescue, and here's to hoping that my next roast chicken is a success!