Blackened Grouper with sprouted grain tortilla, black bean mango salsa, avocado salad and traditional garnishes.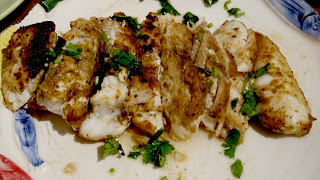 After a lovely dinner out with friends at Cascabel Taqueria that was margarita and guacamole fueled, I was inspired to create a healthful version of fish tacos. I love fish tacos! They are not only easy and healthful, but the interpretations are limitless. For the blackening seasoning I used cayenne, garlic powder, cumin, coriander, ground mustard, onion powder, oregano, salt and pepper. The seasoning is up for adaptation and depends on your palate preference. The first time fish tacos appeared on TCR, mahi mahi was used. Mahi mahi is more dense and flavorful than grouper. Grouper is a mild, moist, semi flaky fish, which lent itself well to being wrapped in a sprouted grain blanket and layered with corn salsa, radish and cilantro. A last minute addition of lime adds a great zest and freshness to the taco.
When making the painstakingly challenging decision of what vessel to nestle your flaky flavorful formally finned friend into, it is important to look carefully at the ingredients in tortillas and bread products. A lot of tortillas have preservatives and additives that although allow the product to last longer, don't do you any benefit. Whole grain products are always best, as they contain all the nutrients from the wheat and are not as processed as white. Folate, which helps form red blood cells and protects against birth defects; iron, which transports oxygen in the blood and magnesium, which is essential for building bones, and selenium which promotes a healthy immune system, are commonly found nutrients in whole grains. Additionally, whole wheat products contain beneficial dietary fiber, are more filling and do not spike blood levels as drastically as white flour products. Whole grains also reduce the risk of chronic disease. Sugar is also added to a lot of bread and tortillas, so if you are cautious about your sugar intake, it is important to look for products that use honey or agave or no sweetener.
For these fish tacos, I opted for one of my favorite brands of grain products, Food For Life: Ezekiel 4:9.
This company makes amazing cereals and really delicious tortillas, which are all sprouted, which means the living ingredients are put into water to sprout and then baked at a low temperature to maintain their protein rich integrity. These organic tortillas contain no flour and are a mixture of grains and legumes to create a complete protein that contains a bounty of vitamins and minerals and fiber with no added fat. Although these tortillas sound extremely pious, they tasted nutty and wholesome and were a great complement to the smooth and flaky fish, the crunchy and spicy salsa and the creamy guacamole….traditional whole wheat tortillas will work just as well.