Many people have pondered about the odor that arises post consumption of a spring meal composed of farm fresh asparagus. Sometimes even a few crunchy spears will cause the sulfurous smell to permeate your nostrils. Although debatable, most science blames the aroma on a sulfur compound in the asparagus called mercaptan. Believe it or not mercaptan is also found in skunk secretion, rotten eggs, garlic and onions. The smell that develops is due to the breakdown of this compound during digestion. Some fortuitous folks lack the enzyme to digest mercaptan and therefore do not have the stinky side effects. Despite the aftermath, asparagus has a bounty of benefits besides being versatile and delicious. Asparagus has a nice balance of carbohydrates, fiber and protein. The green spears also have vitamins A and C, folate and lutein, which is beneficial for eye health.
For my farmer's market fresh asparagus, I simply roasted the trimmed spears with a little olive oil, chopped garlic and parsley for 8-10 minutes at 350.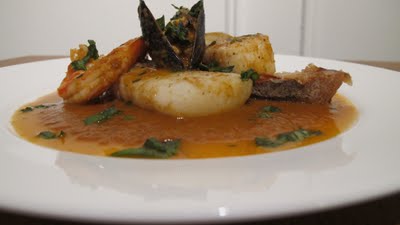 As the main event of the evening, a cioppino was prepared. Cioppino is a seafood stew that originated in San Francisco and is traditionally made from the catch of the day, therefore the ingredients are up for interpretation. For this cioppino, hake, a sweet, semi-meaty white fish was used as well as wild sea scallops, muscles, clams and shrimp.
Fennel, onion and garlic were first sautéed in olive oil. Red wine was then added to deglaze. After it reduced, a can of San Marzano diced tomatoes and 1/2 cup of fish stock were added and brought to a boil. After about 10 minutes, the pot was removed from the heat and allowed to cool slightly and then blended with an immersion blender. Once thinly pureed, the stew was brought back to a simmer. The hake and sea scallops were salt and peppered and quickly pan seared. While searing, the rest of the shellfish were added to the stew and cooked until the shells opened, 5-10 minutes. Everything was plated together and chopped basil and parsley were added to the finished product. Toasted slices of Grandaisy whole wheat baguette smothered with roasted garlic were placed along side for dipping.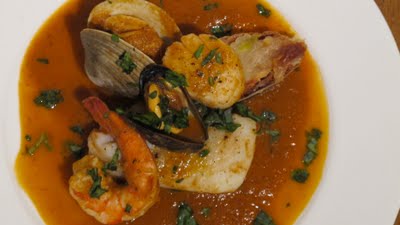 This cioppino was very simple, extremely flavorful and delicious and encapsulated the essence of the sea. This dish was low in fat, contained fiber, lycopene and the crustaceans, mollusks and fish provided lean protein. The total cooking time was around an hour.