Mentioned time and time again, kale is a powerhouse green with much versatility. In the warmer months, I have become quite partial to ripping up the leaves and massaging them with lemon juice, salt, and olive oil to prepare them for an avocado-laced salad. A friend of mine told me some time ago that she loves shredding the leaves into fettuccine-like strands, allowing the nutrient dense greens to serve as a foundation for her homemade meatballs and "gravy".
In continuing my newfound obsession with spaghetti squash (see my earlier post), I've merged a few of my favorite things into one dish. I have always been a sucker for pesto and have many fond food-driven memories associated with this garlicky green sauce. Be it my first time trying it with ingredients from my grandparents' garden or making vast quantities with astro turf consistency on Friday nights with my friends in high school, deviantly sipping on Hard Lemonade, this sauce is close to my food-focused heart.
Here I substituted the traditional basil for winter appropriate kale. This pesto is as simple as the traditional version, but requires a quick, but extra step of blanching. By giving the greens, garlic, and shallots a speedy dip in the hot tub, the fibrous leaves become more supple and some of the bite from the garlic and shallots is removed.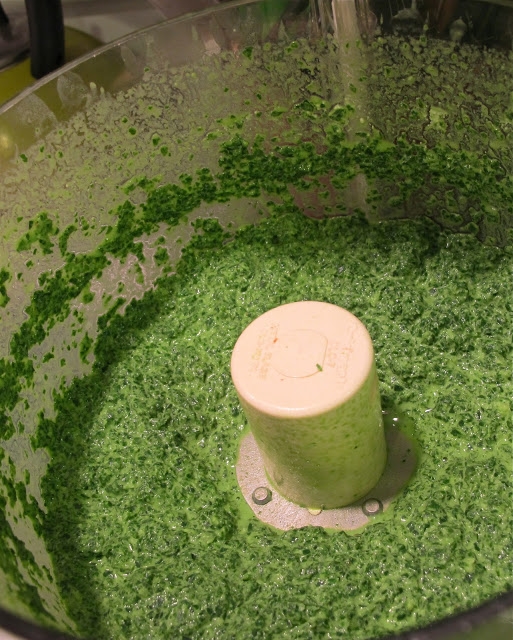 Lemon-Ricotta Kale Pesto
Inspired by 101 Cookbooks
4-6 servings
4 cloves garlic, peeled
2 shallots, peeled
1 bunch of kale, stems and stalks removed and washed
1/3 cup of extra virgin olive oil
1/3 cup part skim ricotta cheese
1 lemon- zest of half, juice of the whole lemon
2 tablespoons kale cooking water
sea salt and black pepper
chili flakes
Additional garnishes: oven roasted tomatoes, chopped pistachios, chives, parm, or roasted red peppers.
Bring a large pot of salted water to a boil.
Add garlic and shallots and boil for 2-3 minutes.
Add the kale and cook for 10 seconds.
Use a slotted spoon to fish the garlic, shallots, and greens out and into a strainer.
Transfer garlic, shallots, and kale to a food processor and add the cheese, lemon zest and lemon juice. With the motor running, drizzle in the oil. Add the cooking water to thin out the sauce if it is too thick.
Adjust seasonings with more lemon, salt, and a generous grinding of black pepper.
Mix with roasted spaghetti squash strands (roasted squash recipe) and finish with chili flakes and additional garnishes.
You could swap out ricotta for goat cheese or use the traditional parm…whatever floats your boat.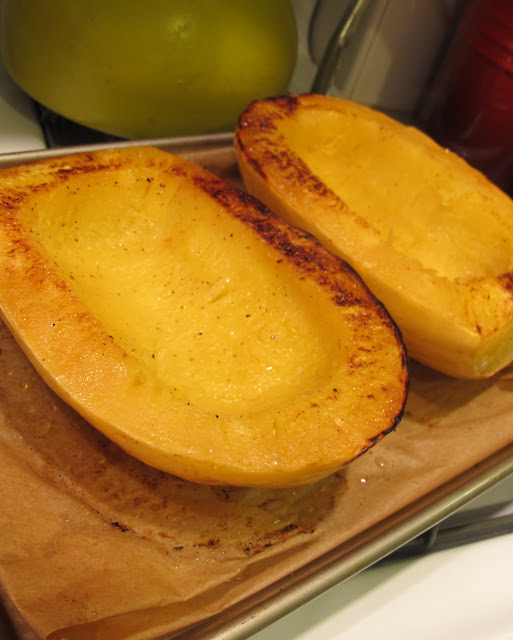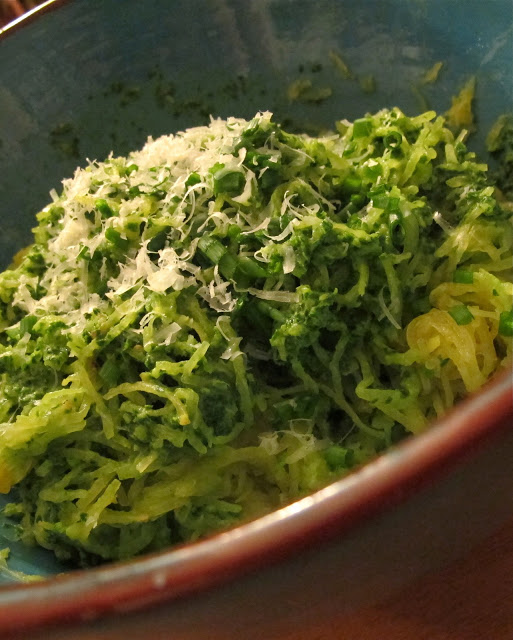 Low Down on Kale:
Rich in Vitamins K, A, and C and Fiber
-Vitamin K has long been associated with its essential role in blood clotting. It also contributes to bone density, and increased and steady intake can decrease risk of fractures which is very important for adolescents undergoing rapid growth, post-menopausal woman, and the elderly.
-Vitamin A is necessary for immune function, growth, and reproduction and is widely known for its role in vision as a deficiency can lead to blindness.
-Vitamin C's importance became prominent when its role in curing the seafarer's illness, scurvy, was discovered. It is now associated with its importance in collagen formation, which is used for building bone and skin. Vitamin C is also a potent antioxidant and may aid in the prevention and treatment of certain cancers.
title credit KME