The holiday season has fully enveloped us in a milieu of twinkling lights, evergreen, and seasonal foods. For some, this time of year causes us to veer off track with eating healthfully and maintaining routine workouts. Our nights and weekends become packed with holiday parties, family festivities and friendly visitors, but the overabundance of celebratory activities should not invite excuses to lose control of good dietary habits.
I am one who fully supports the "in moderation" approach and therefore, during this season of eating that philosophy should not be sidelined. I mentioned some valuable pointers on my Thanksgiving post, and all those tips can be utilized for other festivus occasions. At the root of it all, I think it is invaluable to look at the big picture. Allow yourself to indulge and taste, but be sure to balance it out with wise choices and physical activity.
I am planning a little family gathering and I am in the process of testing some latke recipes. I know that I do not want to be stuck in the kitchen frying up my latkes while my guests are present nor do I want to fry my latkes at all (I know blasphemy). My first foray into latke experiments this year will be potato and parsnip with horseradish cream. I've dabbled in sweet potato and even beet latkes, but this year I want to take it back to basics…sort of.
The root of this recipe is from the cookbook
Jerusalem
by Yotam Ottolenghi and Sam Tamimi
Potato and Parsnip Latkes with Horseradish and Chive Cream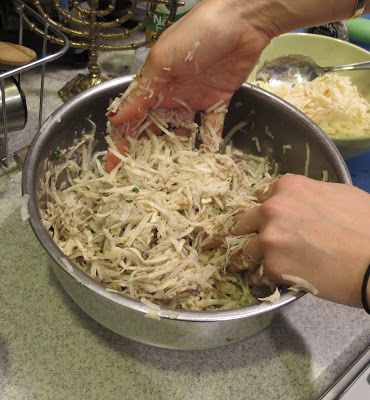 2 large organic russet potatoes
1 organic parsnip
2 small shallots-chopped
2 egg whites
2 tablespoons buckwheat flour
2/3 cup chives- chopped
salt and pepper
organic sunflower oil spray
Preheat oven to 450 degrees. Put sheet pans in the oven to bring them to temperature
Using a grater attachment on a food processor or hand grater, separately grate potatoes and parsnips.
Transfer grated potatoes to a large bowl of ice water
Line a sieve with cheesecloth and with a slotted spoon, transfer potatoes to sieve. Set the sieve in the sink or over a bowl. Twist cheesecloth into a pouch to squeeze out moisture from the potatoes. Allow potatoes to continue to drain for 15 minutes and pat dry.
Mix the potatoes, parsnips, shallots, egg whites, flour, chives, 1 teaspoon salt, and generous amounts of black pepper in a mixing bowl.
Form patties with 2 tablespoons of mixture. Squeeze out any excess liquid. Flatten out the pancake so it has roughly a 8 cm diameter.
Spray cooking sheets with cooking oil and spread latkes out on sheet pans and bake for 10-15 minutes a side or until nicely brown.
Finish with a little more salt and serve with horseradish cream.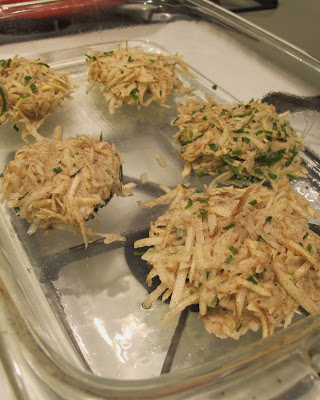 Horseradish Cream
½ cup low fat sour cream
1 tablespoon horseradish (freshly grated if you can find)
1 tablespoon chives
Mix all ingredients together
My first batch came out a little on the dry side and, when discussing baked latkes with the family chef, he recommended preheating the baking sheets to allow for less cooking time….he also said he's never had a successful baked latke…I hope to change his mind.
For my next batch I am thinking about adding some grated carrots to the mix. Has anyone had any interesting latke combos baked or fried?
When potatoes are not fried, they provide a bounty of nutrients. Potatoes are rich in potassium and, although bananas tend to claim the potassium fame, potatoes contain at least 1/3 more potassium than their fruity friend. Why is potassium important you ask? Potassium allows your nerves to function properly and assists with electrolyte balance within your body. Dietary potassium is also useful in assisting individuals with high blood pressure by counteracting the effects of sodium (which elevates blood pressure). Since potatoes are phytochemicals, they also may aid in the prevention of a stroke, cancer or other cardiac complications.
Don't discount the skin on your potato either! The skin of the potato contains a plethora of nutrients including fiber, iron, calcium, vitamin C, and B vitamins.
The average healthy adult should aim for 4,700 milligrams of potassium a day. To help reach your potassium goal here is a list of foods that contain high levels of potassium.
1 medium baked potato- 655 milligrams
8 oz non-fat yogurt- 530 milligrams
½ cup cooked beet greens- 650 milligram
1 cup non-fat milk- 380 milligrams
½ cup cooked spinach- 420 milligrams
1 medium banana- 450 milligrams
1 medium tomato-290 milligrams
Besides from baked latkes, potatoes are extremely versatile and can be baked or boiled or added to salads or stews to serve as a filling and affordable vegetable that is busting with nutrients from the skin to core.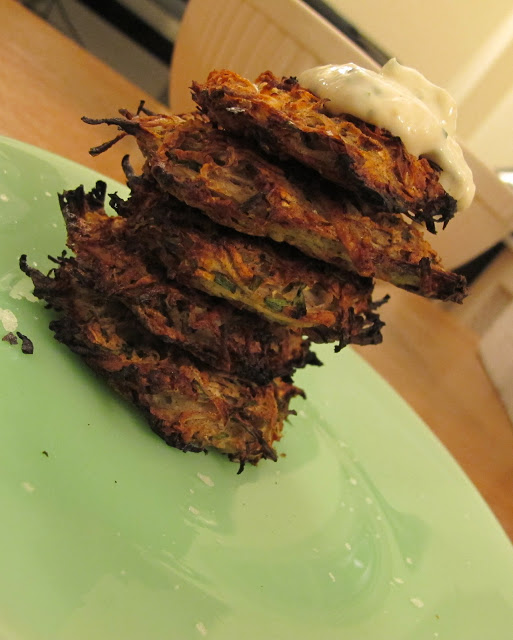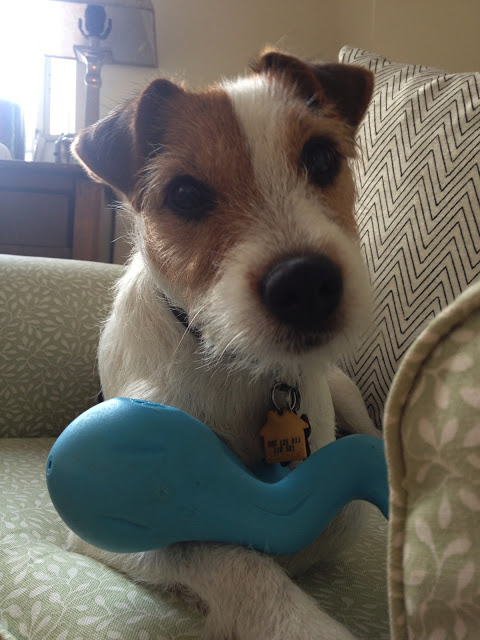 Here's Henry with his Hanukkah present...we've named it Magoo