Recently, I have been feeling highly motivated to experiment with creative vegetarian cuisine. If I had to put a label on my dietary habits, I would fall along the lines of a pescatarian who dabbles in Pio Pio's deliciously roasted and flavorful chicken and someone who fully embraces the comfort of turkey meatballs on a Sunday night. To find inspiration, I flipped through a lovely cookbook called Super Natural Every Day by Heidi Swanson. It is a vegetarian cookbook devoted to wholesome natural recipes. I found the author's philosophy about ingredients and cooking very in tune with my beliefs and was immediately consumed with decisions on which recipe to attempt first.
On a recent bone chilling evening, I decided on a curry and coconut accented split pea soup to serve alongside wheat berries with broccoli pesto and avocado. Both dishes turned out excellently and pushed me to experiment with ingredients that had been somewhat foreign to my pantry until now. Lite coconut milk and coconut oil added great depth to my soup, yet I was wary about coconut oil, which is full of saturated fat. After conducting some research and consulting with my fellow dietetic intern, I learned that not all saturated fats are created equal. The fat that is found in coconut oil is digested differently than that of saturated fat from animal skin, meat, and dairy. The medium chain fatty acids found in coconut oil are immediately used for energy, and therefore are not stored in the body as fat (like long chain fatty acids). Additionally, they can boost the rate of metabolism, allowing for more lean body mass and can increase the rate of calories burned. Some studies have also demonstrated that coconut oil reduces total and LDL (bad) cholesterol. Coconut oil is also a good alternative to butter for vegans and works well in baked goods. (1,2) Everything in moderation they say, and coconut oil is still a fat, and even good fat should not be taken advantage of.
Both recipes adapted from
Super Natural Every Day
by Heidi Swanson
Serves 4-6
Split Pea Soup with Curry Brown "Butter" and Coconut Milk
2 tbsp coconut oil
1 large yellow onion, chopped
3 cloves garlic, chopped
1 tsp red pepper flakes
5 ½ cups vegetable broth
1 ½ cups green split peas, rinsed and picked over
3 tbsp Earth Balance Spread
1 tbsp hot curry powder
½ cup lite coconut milk
Sea Salt
1 bunch chives, minced
Combine 2 tbsp coconut oil, onion, garlic, and red pepper flakes in a large soup pot over medium heat and cook until onions soften.
Add broth and split peas and cook until peas are tender, around 45-50 minutes
Once the peas are almost cooked, make the brown "butter". Warm 3 tbsp of Earth Balance in a saucepan and let brown. Stir in curry powder and cook for 1 minute.
Remove split peas from the heat and add the lite coconut milk, ¼ tsp salt and blend with an immersion blender.
Stir in 1/2 of the curry "butter" and season with a little more salt if needed
Serve with minced chives and a drizzling of the extra spiced "butter"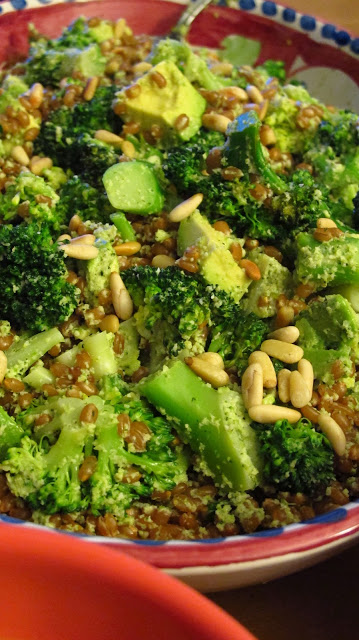 Wheat Berries With Broccoli Pesto
1 ½ cups organic wheat berries
5 cups raw broccoli cut into small florets and stems
2 gloves garlic
2/3 cup of toasted pine nuts
1/3 cup grated Parm
Juice of 1 lemon
¼ cup extra virgin olive oil
grated zest of 1 lemon
1 small ripe avocado, sliced
Cook wheat berries for 45 minutes or until cooked (soften but still semi-firm with a slight crunch) in boiling salted water and drain.
Blanch the broccoli for 1 minute in boiling water, drain, and run cold water over to arrest the cooking.
Pesto: combine 2 cups cooked broccoli, garlic, pine nuts, cheese, ¼ tsp salt, and 2 tbsp lemon juice in a blender and drizzle in olive oil until smooth.
Toss wheat berries with the rest of the broccoli, 2/3 of the pesto, and lemon zest.
Fold in avocado and finish with the rest of the lemon juice.
If you celebrate Valentines Day or not, treat yourself to one of these delicious recipes that are good for you inside and out...your heart will thank you.
1) St-Onge MP, Jones PJ. Greater rise in fat oxidation with medium-chain triglyceride consumption relative to long-chain triglyceride is associated with lower initial body weight and greater loss of subcutaneous adipose tissue, International Journal of Obesity & Related Metabolic Disorders, 2003 Dec;27(12):1565-71.
2) Traister J. Coconut Oil and Medium Chain Triglycerides 2011 Aug. www.livestrong.com