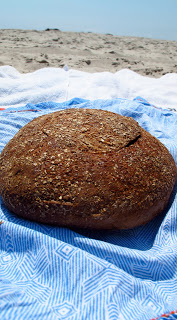 I knew that our recent day trip to Fire Island would be the ideal opportunity to re-create the ultimate hiker sandwich that I had been bragging about for years. The first incarnation of this sandwich was ten years ago after I had seen it made on a cooking show. Ten years later, I stepped it up a few notches and, instead of using all prepared and packaged goods, I made the pesto from scratch and grilled a few veggies to create a multitude of colorful layers and flavors. What was packed inside this Grandaisy rustic whole wheat loaf you ask? Pesto (basil, olive oil, walnuts, sans cheese), provolone, organic all natural Applegate Farms smoked turkey breast, roasted red bell peppers, arugula, grilled zucchini, squash, banana peppers, and jalapeño.
Once you have all your ingredients ready to go, this compact sandwich is very simple. To start, cut a hole on top of the loaf in order to be able to scoop out all the innards and to layer all the components of the sandwich. By creating an access through the top of the loaf instead of simply slicing the bread in two, you are creating an environment for all the elements to stay compacted and meld together - perfect for transporting on a long journey. I made the pesto without cheese since I was using a salty moist provolone, yet I sill wanted the garlicky, basil layer to my sandwich. I put the pesto down first as the foundation for the sandwich to create a boundary from bread to fillers and also so with each bite you got garlicky pesto. Next, I layered provolone, which got a little melted with the travel, but added a great salty gooeyness to the sandwich. After that, smoked turkey, arugula, the roasted and grilled veggies and a final layer of cheese was added to seal together the layers. When constructing this sandwich, it is essential to get into all the corners of the bread so that each bite is inundated with flavor.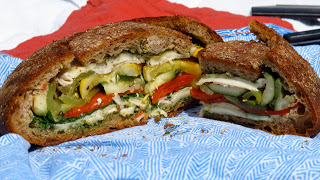 Once we arrived at the beach, the sandwich was "ripe" and ready for the taking. We brought along a handy serrated knife and, with the sand in our toes and the waves lapping in the background, we enjoyed layer upon layer of this multidimensional sandwich. The sandwich was made the night before and, with the proper layering technique and bread type, it should not get soggy. The components of this sandwich are totally up for interpretation. Next time, I am going to add artichoke hearts, eggplant and, jalepeno jack cheese. Whatever you decide to stuff in your hiker, it is the perfect treat for a day of hiking or lounging on the beach.