Irene came and went and caused most of us to hibernate in our houses for most of the weekend. To our great disappointment, a member of The Crunchy Radish had their birthday festivities put on hold due to the storm. To make the best of things, we made a birthday dinner with some goods that we loaded up on the day before at the farmers' market.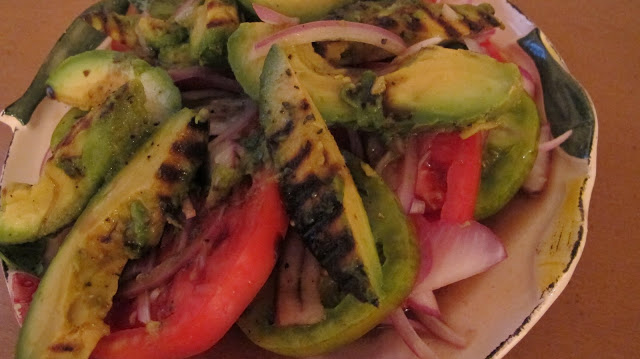 Grilled avocado was a unique spin on the traditional avocado and tomato salad. Marinating the avocado in lemon juice and then grilling the halves with a little olive oil for two minutes a side really brought an interesting complexity to the fruit and intensified the flavor. The avocado was layered with red onion, (which was also tossed in lemon juice), heirloom and beefsteak tomatoes, olive oil, some aged balsamic, salt, and pepper.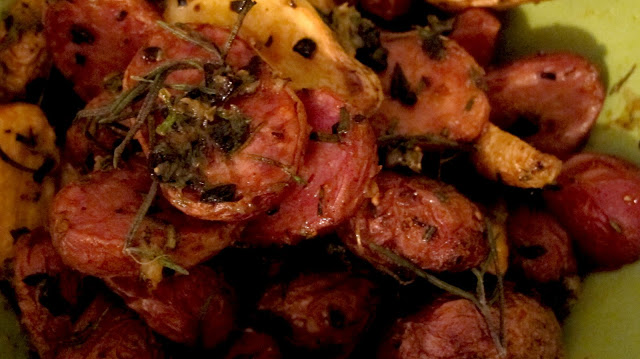 Usually not a potato person, I couldn't help myself at the farmers' market. These little nuggets were calling out to me to be simply roasted to the point where their skins were crisp and finished with a garlicky dressing. Potatoes are underrated and do possess some essential nutrients, particularly in their skin. Potatoes are a complex carbohydrate and are naturally low in calories. Potatoes with the skin not only have fiber, but contain B Vitamins, Vitamin C, iron, calcium and potassium.
The petite blue and fingerling potatoes were roasted with rosemary and olive oil and then mixed with a "paste" of roasted garlic, rosemary, cayenne pepper, olive oil, salt, and pepper.
The birthday boy grilled himself up a New York Strip steak, and we toasted with some bubbly.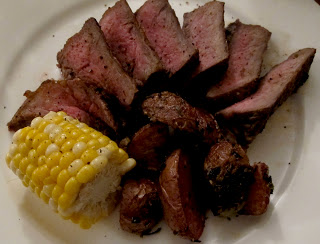 For dessert I was able to utilize my bounty of peaches and Italian plums and made a crisp with whole wheat flour, oatmeal, brown sugar, cinnamon, nutmeg, walnuts, currants, and some Earth Balance spread. The crisp wouldn't be complete without some organic vanilla bean ice cream.
We were able to have a pre-birthday celebration the night before at Fedora. We had a lovely meal filled with oysters, chicken liver on toast with pickled onions, sautéed chanterelles with a poached egg, and their take on a surf and turf which consisted of chicken meatballs and scallops. We finished the meal in style with a delicious ice cream sandwich-Van Leeuween ice cream sandwiched between chocolate cookies dipped in chopped peanuts!
Looking forward to continuing the birthday celebration with friends later this week at Roberta's.
Happy Birthday to the biggest Radish Head I know!