I am well overdue for a post, but I am finally mentally ready to re-devote myself to The Crunchy Radish. For the past 6 months I have been immersed in the clinical rotations of my dietetic internship. Now that I have finally completed that phase, I am moving forward and will soon take the RD exam and, fingers crossed, find a job. In the meantime, I hope to continue to be able to offer some nutritive tips and recipe ideas. Post internship, I am even more versed on nutrition and overall wellness, and ideally can serve as a unique and intelligible source of nutrition information and cooking basics. So, thank you to those who continue to follow my updates despite my recent lapse.
To kick off my return, I am writing about an elemental summer pasta dish. We all know that a perfectly juicy, sweet, and succulent tomato can emulate the essence of summer and, when simply sprinkled with a little sea salt and paired with the simplest of ingredients, can cause an eruption of happiness in your oral cavity.
Since joining a CSA, those tomatoes of my fantasies have yet to reach my kitchen due to the drought which has impacted our farm. Luckily, I was able to find some beauties at our local farmers market which provided a superb foundation for this summer pasta.
For the fresh tomato sauce with tuna; some garlic and an onion were sautéed in olive oil, skinned, chopped, fresh tomatoes were added. (To remove tomato skin, X the base of the tomatoes and plop them into boiling water for 30 seconds. Blanch them in an ice bath, and the skin should peel right off.) From this point, you can cook your tomatoes as much or as little as you please. I added the almost-cooked whole-wheat rigatoni into the sauce, chunks of tonno (originally in olive oil, drained) and chopped black olives. Once everything is incorporated, top with torn basil, chili flakes, and serve.
Whether I am simply making a sandwich or something more complex, the tuna I always opt for is Italian tonno in olive oil. I always drain the oil to limit the fat and liquid content. The depth of flavor and quality of the tonno is always far superior than your run of the mill chunk white in water, but this type of tuna does contain added fat due to the oil. Although tuna serves as a great source of protein, omega-3, and vitamin D, it is important to not consume too much due to levels of mercury. According to the Academy of Nutrition and Dietetics and the FDA, it is safe to consume a total of 12oz of canned light tuna per week, but albacore, big eye, and chunk white tuna should be limited to only 6oz total per week due to their higher levels of mercury. (A typical can of tuna is 5oz)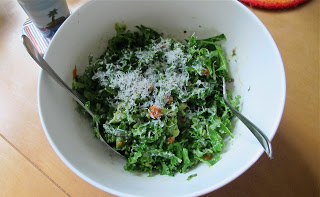 Kale Caesar alongside my Rigatoni
Should you be concerned about mercury? Mercury is mainly a concern for pregnant women since it can build up in the blood and affect the development of an unborn child. In addition, excessive mercury intake for an adult may lead to neurological impairment. It is advisable to avoid consuming tilefish, shark, swordfish, and king mackerel- all of which possess the highest levels of this organic element. But don't let this detract you from eating fish.
For a healthy individual, mercury is not too much of a concern and the benefits of consuming fish typically outweigh the risks.