Blackened Wild Striped Bass with Kale and Avocado Relish
If you are fully loaded from hitting the stuffing a little hard this year, here is a recipe that is light and filling and will relieve you of any over gorging regrets you might have the day after. Additionally, I've demonstrated two super green side dishes that are both filling and tasty and can be served along side your poultry.
Blackened Wild Striped Bass with Kale and Avocado Relish
Blackening seasoning can be purchased or prepared and can be mixed to suit your taste preferences. I combined 1 tsp each of cayenne, paprika, garlic powder, onion powder, thyme, salt, and pepper and coated the top of a cleaned and thoroughly dried filet with the mixture.
I heated a pan with canola spray, and placed the filet skin side up, and pan seared each side for about 2 minutes in order to get a crisp crust. The fish was transferred to a 350 degree oven for around 12 minutes or until the center was opaque. While the fish cooked, the kale was braised in sautéed garlic and 1/2 cup low sodium vegetable stock for 5 minutes and then drained. For the avocado relish, I simply diced the cado and mixed it with lime juice and a little salt. The limey relish cut the spice of the fish and was a lovely contrast.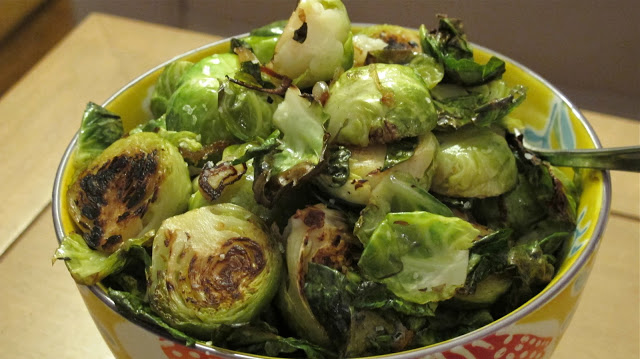 Brussel Sprouts With Shallots
To get a nice crust and color on the brussel sprouts, I halved them and quickly pan seared the B.S. in a hot pan for about 3 minutes, cut side down. I then transferred the sprouts to a sheet pan and roasted them with sliced shallots and a tbsp of olive oil for 15 minutes or under tender, but slightly firm to the bite. The pan searing before the roasting is an extra step, but it really gave the B.S. a nice crispy slightly smoky outer layer that elevated the little lettuce heads. Although B.S. have a nasty rap, they are always a hit when I bring them to my family's Thanksgiving (or maybe my family is just being nice).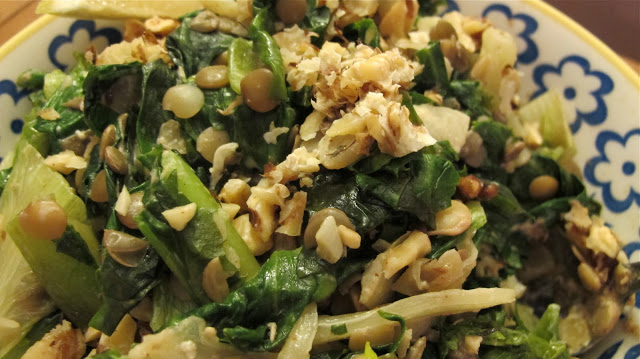 Sprouted Lentil and Escarole Salad with Toasted Walnuts
Another lovely and light side idea for your Thanksgiving table is sprouted lentil and escarole salad with toasted walnuts. I used sprouted lentils which only needed to cook for 13 minutes; they were tender and iron loaded. While the lentils quickly cooked, I caramelized some fennel with thyme and garlic and then threw in a chopped head of escarole to wilt. Once the lentils were cooked to my liking (tender with a slight bite), I drained and combined them with the escarole and fennel mixture. I stirred in 1 tbsp of chèvre, which added a deliciously tart and tangy finish, and topped the whole thing with 1/4 cup chopped toasted walnuts.
These recipes contain cruciferous vegetables aka kale and brussel sprouts. These vegetables are nutrient dense and are loaded with fiber, which keep things going and flowing, vitamins, and minerals. Cruciferous veggies are also antioxidants and help prevent free-radicals (harmful cells) from proliferating.
Both kale and B.S. contain high levels of Vitamin C, which aids with wound healing and is an important component in maintaining bone and teeth integrity.
Kale is an excellent source of Vitamin A, which is beneficial for eye health, and aids in forming and sustaining teeth and skin.
Brussel sprouts contain Vitamin E which boosts the immune system and helps form red blood cells. Brussel sprouts also have high levels of folic acid and are loaded with plant healthy omega-3s.
When making any type of vegetable, be sure to not overcook them since it can leach out most of the nutrients. Additionally, most brussel sprouts get a bad rap for being sulfurous and unappealing, which occurs when they are overcooked.
Your Thanksgiving doesn't have to be all about butter landed mash, creamy potato gratin, and cornbread stuffing. It's easy to integrate nutritious sides that taste good and make you feel good too!
Happy Thanksgiving from The Crunchy Radish and Henry too!