Sweet Curry Roasted Delicata Squash Fries with Curry Mustard Dip
The festive celebrating has continued into January as many of my friends celebrate their birthdays this month…which also means the convivial eating and drinking continues as well. With that in mind, I tried to recreate a light and refreshing salad that I had while on vacation. The salad was called the Simply Grilled and it was from the restaurant Veritas in Vieques. The salad is a variation on a Cobb, but the fresh lightly seasoned fish replaces the greasy fat-laden bacon. To accompany my large salad, I made fries from Delicata Squash. These fries were inspired by a lovely lunch I recently had with a good friend at a vegan restaurant called Peacefood Café on the UWS. We ordered their signature chickpeas fries and were enamored by their deliciousness. The fries were made of blended chickpeas and were bursting with Indian spice. For my variation, I kept it simple and sliced 2 squashes with the skin intact, and seeds removed, into fry-like shapes and coated them with 2 tbsp sweet curry powder, 2 tbsp olive oil, and a sprinkling of salt and pepper. The fries were roasted at 425 degrees for 40 minutes. While the fries roasted, I simply mixed extra strong Dijon mustard with 2 tsp sweet curry powder and chopped cilantro and chives for a tangy curry laced dip. These fries were delicious and hard to put down! Luckily they contained beneficial potassium, which is an essential mineral that aids with normalizing blood pressure. Yellow squash also contains lutein and zeaxanthin, which are vital for maintaining eye health and reducing damage from free radicals.
"The Simply Grilled" Salad (Serves 2)
12 oz Fresh Wild Red Snapper fillets
I box organic romaine hearts chopped
1 roasted red bell pepper chopped
2 sticks celery thinly sliced
¼ red onion thinly sliced
½ avocado diced
1/2 cup chickpeas rinsed
10 cherry tomatoes sliced in half
¼ cup Stilton or Gorgonzola crumbled
Salt and Pepper
Parsley and chives for garnish at your discretion
Anchovy Dressing
6 anchovy fillets
2 tbsp strong Dijon Mustard
2 tbsp red wine vinegar
1/3 cup extra virgin olive oil
Ground black pepper
For the dressing:
Blend anchovies, mustard, and vinegar together in a blender. Slowly stream in olive oil with the motor on and season with pepper.
Wash and thoroughly dry the fish and season lightly with salt and pepper
Heat a pan with canola spray and pan sear each fillet for around 5 minutes a side or until the center is opaque and skin is crisp
Meanwhile, toss together all the salad components and about 2 tbsp of dressing
Serve fish on top of salad, garnish with herbs, and enjoy this light, healthful, and filling salad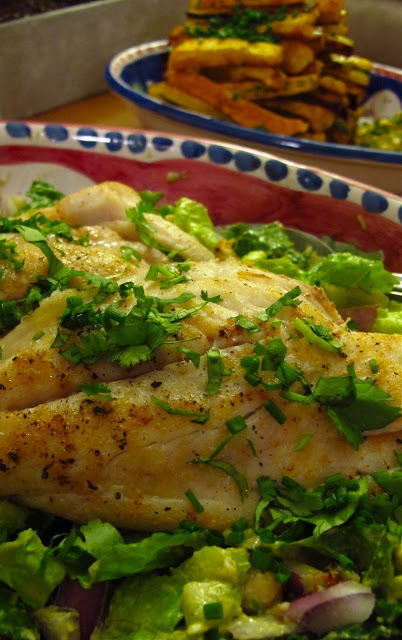 I know it is practically sacrilegious to serve cheese with fish in some elite circles, but this combo deliciously breaks the rules.

Happy Birthday to all you January babies…. I have definitely enjoyed continuing the celebrations!