I could probably spend a month in San Francisco, negotiating whether to eat out for every meal or roam the farmers markets, nibbling my way through fresh produce and local delectables and still have a laundry list of places I am burning to try. My frequent visits and need to get my crunchy fix has led me to curate my Radish Approved San Fran eats and treats!
I have dreams about the smoked potatoes and sunflower tahini lathered rustic breads. For lunch or dinner, Bar Tartine delivers uniquely delicious and "spot on" fare. The famed breads paired with seasonal produce and anything pickled should not be missed.
561 Valencia Street
San Francisco, CA 94103
Iced New Orleans coffee magic that will keep you buzzing for hours. Try the Mint Plaza location where you can also have Texas sized toast, spinach, and poached eggs with your brew. Or, sip your joe at the new outpost in Heath ceramics where you can peruse mid- century style tableware and pottery in a beautifully airy store and studio.
Mint Plaza
66 Mint Plaza
San Francisco, CA 94103
Heath Ceramics
2900 18th Street
San Francisco, CA 94110
For a very special occasion, Coi is your pick. Inventive, seasonal, and upscale cuisine is served in a contemporary setting. The food is edible art and the beautiful bathroom is not to be missed!
373 Broadway
San Francisco, CA 94133
On my food bucket list ever since I heard that the same organic, non-gmo, health food loving geniuses were behind both Gracias Madre and Cafe Gratitude. Vegan, sustainable, delicious, and mostly nutritious, I was in Mexican vegan heaven.
2211 Mission Street
San Francisco, CA 94110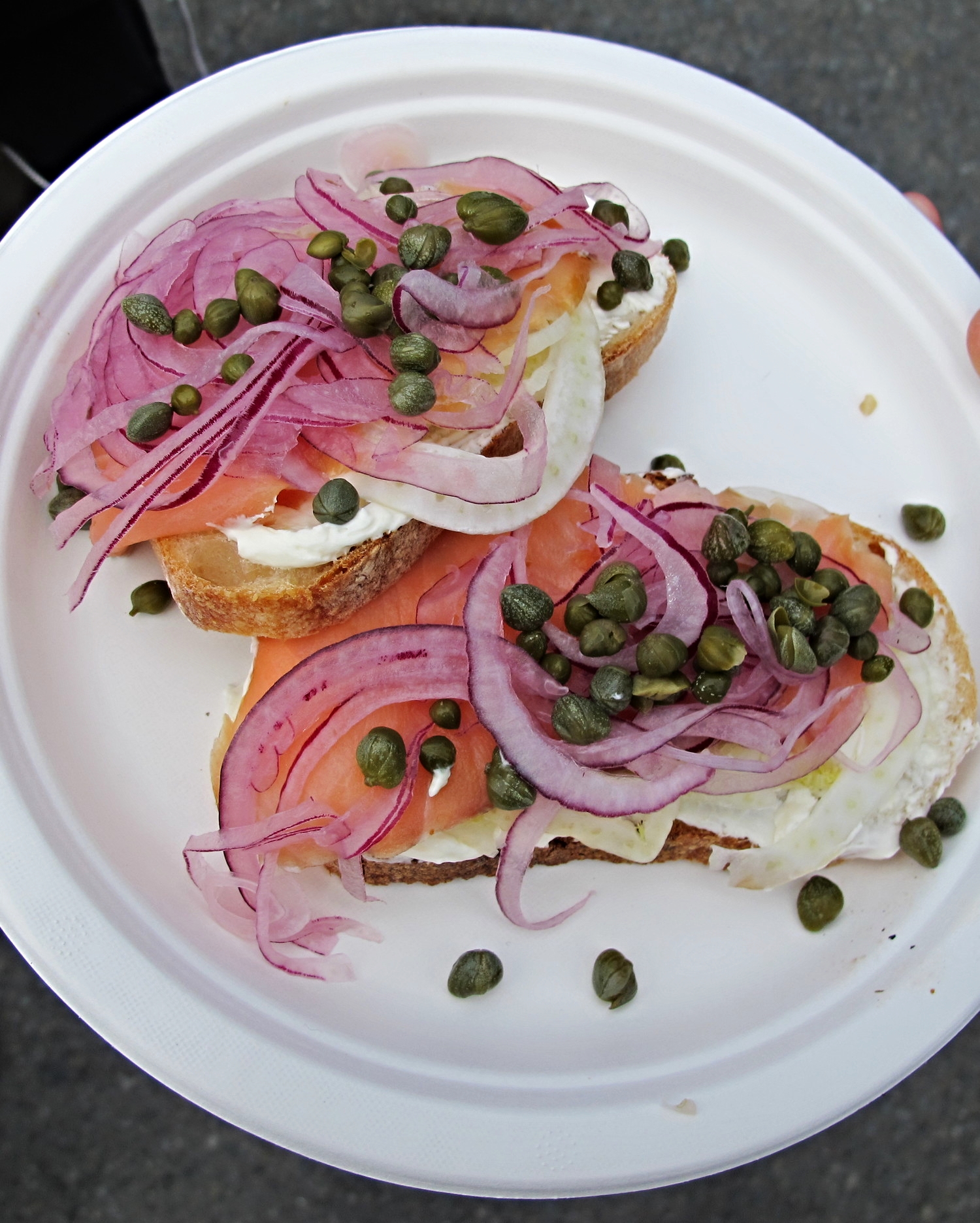 Mecca for any food-loving freak.
*Radish Rec: Provision for a picnic with bread from Acme, cheese from Cow Girl Creamery, and seasonal fresh produce from the Farmers' Market or one of the many vendors.
The Farmers' Market at The Ferry Building
This is the farmers' market to end all farmers' markets. Saturdays are epic where, in addition to the gorgeous farm fresh produce, meat, and dairy vendors, local restaurants set up with some of their specialties. This combination will likely lead to euphoric bewilderment.
Tuesday: 10am–2pm
Thursday: 10 am - 2pm
Saturday: 8am-2pm
1 Sausalito
San Francisco Ferry Bldg
San Francisco, CA 94111
Handcrafted, seasonal, local Italian cuisine located in the Mission. Menu changes daily. Pastas made in house, pizza cooked in the wood fire oven, service with efficiency and ease.
2401 Harrison Street
San Francisco, CA 94110
If you enjoy out of the ordinary ice cream flavors, this is your place. An overwhelmingly delectable selection that might result in your having a nervous breakdown when trying to make a decision. Seasonal specialties dominate the menu; balsamic strawberry was a winner when I was last there.
2790 Harrison Street
San Francisco, CA 94110
The place to go for mammoth sized "hipster toast" with seasonal spreads and fantastic coffee. The Mill is the perfect option if you like to start you day on the carb heavy side.
*Radish Rec: Take a jog around near-by Alamo Square Park to really earn that Texas toast.
736 Divisadero St
San Francisco, CA 94117
Contemporary Vietnamese inspired food that will blow your pants off. Nothing on the menu has ever disappointed. Flavors, food, and service all create a winning dining experience.
1 Ferry Building #3
San Francisco, CA 94111
Swan Oyster Depot
This counter only depot is a quintessential must for any seafood lover. Freshly shucked oysters, homemade cocktail sauces, and fantastic crab and shrimp salads add to the old world appeal of this institution. The staff, always affable, makes any visitor feel like a regular.
*Radish Rec: Head over early (before noon) if you do not want to wait over an hour for a stool.
1517 Polk Street
San Francisco, CA 94109
A huge thanks to Ariellelikestocook for steering me toward this fantastic brunch place. Typically never a sweets at breakfast type, the gluten-free almond pancakes were phenomenal, along with fluffy omelets, crispy potatoes, and fantastically fresh bread. Well worth the wait.
299 18th Street
San Francisco, CA 94107