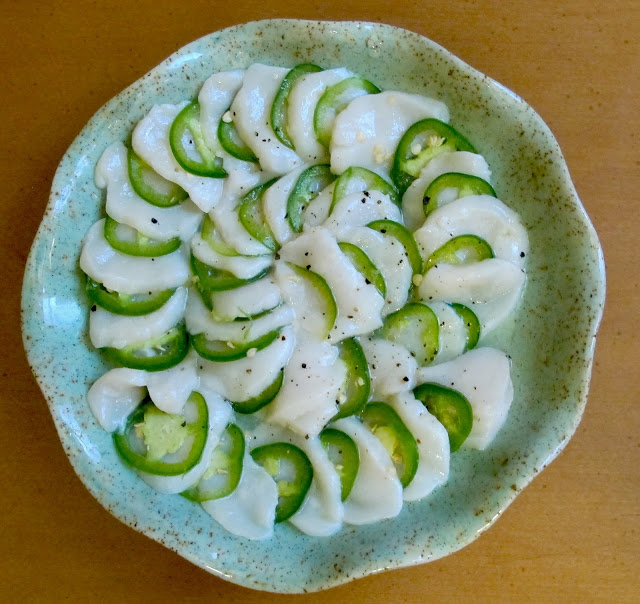 Scallop Crudo with Jalapeno Slivers and Lemon Oil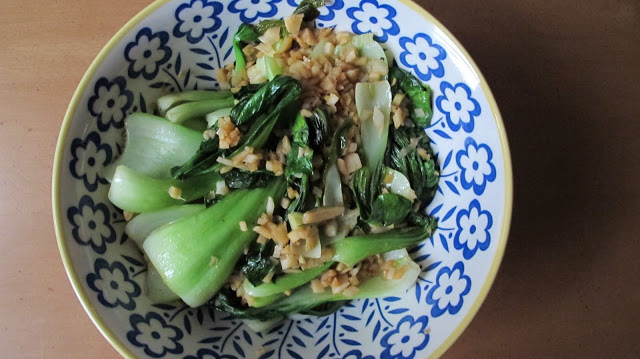 Sauteed Bok Choy with Ginger, Garlic and Sesame Soy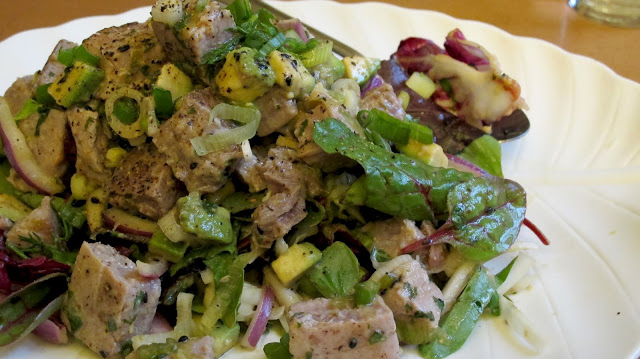 Seared Ahi Tuna and Avocado Salad with Sesame Lime Dressing
Last week left New Yorkers feeling sticky, stinky and stuck in thick hot air that coated the city streets and engulfed transit tunnels. Besides from sipping ice cold Pinot Blanc and slurping chilled oysters, I composed a cold raw scallop crudo and lightly seared ahi tuna for a zesty salad in order to cool off and keep the stove use to a minimum.
The scallop crudo was super simple. The scallops were slivered and returned to the fridge to stay extra cool, while the jalapeño was thinly sliced. For the refreshing final touch, lemon juice and a little olive oil, sea salt and pepper were mixed together and spooned over the crudo, for a simple succulent dish.
The bok choy was sautéed with canola oil, garlic and ginger and was finished with a little low sodium soy sauce.
The refreshing and simple seared tuna salad was emulated from a Barefoot Contessa recipe that appears in her book Barefoot Contessa at Home. My dear friend Jeanette first made this salad for the two of us for a summer picnic in the park years ago and the balance of zesty lime juice, smooth avocado and crunchy sesame seeds have stayed with me since. The dressing was made from the juice of two limes, low sodium soy sauce, toasted sesame seeds, scallions, ginger, Melinda's extra hot sauce and a touch of sesame oil. This dressing lends itself well to augmentation depending on palate preference. To make the salad go a little further (the original is simply avocado, red onion and tuna) I added mixed greens, endive and thinly sliced celery for added crunch. After a quick sear, I let the tuna cool, cubed the meat and tossed it with largely diced avocado and some of the dressing to insure adequate flavor distribution prior to adding it to the greens. This salad was light, tart and filling. It required extremely minimal use of the stove and was a quick refresher on a hot summery night.
Whether nutritionally savvy or not, most people are aware of the sodium epidemic that has infiltrated our restaurants, grocery stores and palates. Why so much concern over salt that the Mayor and government offices are actively involved? High intake of sodium is associated with high blood pressure, which puts people at risk for heart disease, stroke, certain cancers, and kidney disease. Depending on ones health status, the recommendation of sodium intake is between 1,500 and 2,300mg; most people are consuming between 3,000 and 6,000mg per day. 1/4 teaspoon of iodized salt contains about 590mg of sodium, so it is extremely simple to overdo intake.
Highly addicted to saltiness? Salt preference is an acquired taste and by slowly reducing intake, your desire should diminish. Sea salt and kosher salt are good alternatives to regular table salt. They are generally lower in sodium, sea salt is higher in minerals and since the grain is courser, it is easier to use less of. As noted, when using soy sauce always opt for the low sodium version, but even the low sodium version has a lot of sodium per mg, around 600mg per tbsp! So be light handed when using it for flavor or for dipping your sushi. As a way to wean off the salt when cooking, try integrating more seasonings, spices and herbs to supplement the flavor obtained from salt.